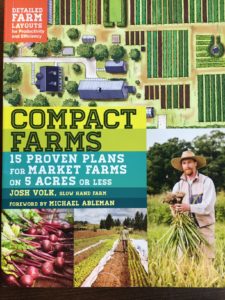 I love  books about farming and gardening and books that friends have written, so imagine my pleasure on first realizing that this beautiful farming book was written by my friend Josh Volk.
One of the regular joys of attending the NW Flower and Garden Show (http://www.gardenshow.com/) is being bombarded with so many new and wonderful gardening books.  Of course this presents either a marvelous opportunity for restraint (as in, "I will just look at these books, take what ideas I can from paging through them, then slowly put them down and back away without pulling out the credit card.") or a kind of libro-hedonism in which one goes raving mad, semi-blacks out, and awakens later to find oneself walking around the show with a grocery bag of new gardening books and a receipt with a staggering number on it.  This time, happily, I found the middle ground between teetotaler and fiend.
Among the excitement of all the book-looking was my discovery of the newly-published book, Compact Farms, written by my friend Josh Volk.  This handsome book fairly sang to me from the shelf, even before I realized it was Josh's, and its eye-appeal  extends far beyond the cover.  Josh and illustrator Steve Sanford have created a near-perfect rhythm of photos and colored drawings that makes a flip-through from start to finish irresistible.
The thesis is admirable: if there are at least 15 small-scale (5 to .15 acre) vegetable and flower farms across North America (Quebec to Hawaii, urban to rural) that can be shown to have created successful systems for planting, harvest and sale, then maybe we're not doomed to "bigger is better" agribusiness after all.  Perhaps you can leave your office job and have a reasonable chance of success.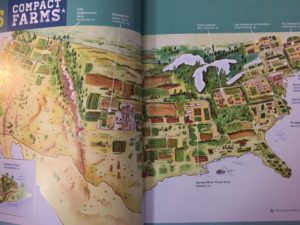 An inexpertly-photographed example of the beautiful illustrations in the book, this one showing the location of the 15 profiled farms.  My inability to effectively manipulate light resulted in the near obliteration of the west coast.  Doh!
Josh elegantly simplifies the information he presents on each farm, pursuing a kind of written equivalent to Franklin D. Roosevelt's famous dictum for speakers: be brief, be sincere, be seated.  After starting in on any particular farm profile, almost before you know it, you've reached the end and are eagerly on to the next, proving his writing and organizational chops are as sharp as his farm hoe.  And while this is not a hand-hold for the novice farmer,  assuming as it does some experience in already growing vegetables (quick: what's a 1020 tray?), there is much to be gleaned from each brief farm profile, especially if you have already dabbled a bit.
The takeaway for the small-scale farmer is clear, but what's in it for the home gardener?  Well, just as a sidewards glance often reveals things that a straight-on look won't, I often look slightly up or down scale for new home gardening ideas, having gotten some of my greatest inspirations from either container gardening books (scaling down) or from small farm books (scaling up).  And, really, in some of Josh's case studies, there's not much interpolation required by the home gardener.  By profiling his own farm, Slow Hand Farm, at .15 acre, the distance between his operation and what's possible for the motivated home gardener shrinks to almost nothing.
Of course, if you are a small-scale farmer or would be one, the benefits of getting 15 sneak peeks into 15 other farmers' operations is invaluable.  When I was growing vegetables on about 2 acres (back in the day!) I relished every chance I got to visit another farmer's operation, averring that an hour touring another farm was worth 10 good books on the subject.  If my multiplication facts serve, then Josh's efforts to take the reader along on 15 quick but thorough farm visits must be accounted to be worth about 150 books.  So, Josh, at next printing, consider hiking the price!
The only bad news comes deep in on page 213, where Josh attempts to quantify how much people actually make at these ventures.  If you see farm work's remuneration as merely a matter of dollars and cents, then prepare to be disappointed, because there are no magic tricks revealed.  The story of many of these experienced growers is that small-scale farmers may only take minimum wage if lucky and that over many more hours than the standard 40-hour work week.  But a solid farming plan and a farm which at least pays all its expenses, including hired labor, seems poised for greater success, and many of the farmers Josh profiles appear to have comfortable lives, in which their initial efforts and investments in infrastructure have been rewarded with now-adequate wages.  And while there is certainly a measure of stress associated with the profession, working every day in the fresh air and growing one's own food are health benefits not available to the sheltered office laborer, not to mention the peace of mind and conscience that come from  actually making a tangible, vital contribution to the day-to-day needs of one's fellow humans.  Those sentiments certainly will not send you on a cruise to the Bahamas in your retirement, but they may make the urgency to "get away from it all" alien to your thinking.  They may not pay a hospital bill, but a healthy life has been known to prevent many a hospital visit.
Enough soliloquizing on the merits of  farm life.  Get this book, salivate over its photos and beautiful drawings, ponder the smarts and grit of the farmers profiled, and learn what you can from each, applying their hard-won insights to your own situation.  Josh, my hat's off to you for this fine book.  Let's hope it gets into all the right hands to keep moving the small-farm movement forward.