I'm not sure why I do it.  Every year, for some reason or another, I wind up using those flimsy, conical tomato cages as supports for my tomato plants, and every year, by mid-season, I am cursing the floppy, insubstantial things, swearing I won't set another one in the ground ever again.  You know what they look like: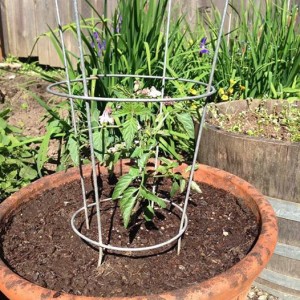 Initially, it's so satisfying.  First, you give yourself kudos for having placed some support, any support, with the tomato immediately after planting….like all the garden books tell you.  And then you're sure that voluminous cage, so empty, so capacious, so open to receive tomato growth, will surely fill the bill.  Plus, it hugs the tomato down near the ground and widens as it goes up to receive new growth, right?  It's well thought out.   Well, a few popped spot-welds and a bent upright or two later, when your entire humongous tomato plant is doubled over, nearly prostrate on the ground, and slugs have free reign over all the green fruit, you won't be so happy about your nifty little tomato cage.  Plus even if it does manage to hold the weight of the plant, each side branch has grown so far out from the cage that the "support" it provides is merely conceptual.  "NO, I will not do this again, " I swear to myself in a fury, as I realize that we are now past the point of no return, and if I were to try to extract the tomato from the cage and start over I would do irreparable harm.
That's how it's gone for me, but, still, last year I bought some more of these cages.  What beguiled me, what caused my steely resolution to crumble?… Why a nice powder-coated, Martha Stewart- like line of colored cages, of course.   Oh, so those dusty silver cages are crap, but these lime green, fire-engine red, and sunny yellow cages are just right?  Apparently so, because I caved.  Well, at least the colored cages didn't self-destruct (maybe the paint helped hold the spot welds together?), but in a cruel irony the cage colors disappeared as soon as the tomato plants got big enough – the bed was just a big sea of tomato yellowish-green.
So this year I've discovered how to make my peace with all this cage nonsense….don't plant tomatoes in them.  I've decided that these are going to be re-branded as pea cages!  And with that slight, semanic shift, inner peace has returned.  Now my spring garden is all smart and well appointed with those bright colors in the front yard; my snap peas – being WAAAAAY lighter than a mammoth tomato plant – are well supported; and my inner critic has been silenced because my colored-cage expenditure was not just an impulsive, flash-in-the-pan purchase, which I knew I would regret later.  I LOVE my new pea cages and so do the peas!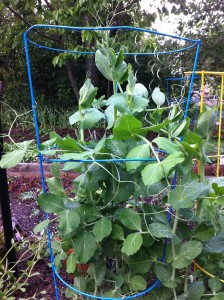 As for the tomatoes…what will become of them?  Well take that up soon because they go out this week, and as you know, all those gardening books say you should support your plants right when you put them in.