OK, first things first. My attitude toward snow has changed a little bit since my last post. My rah-rah enthusiasm turned sour as I headed north last Thursday en route to the NW Flower and Garden Show. A fast-moving storm hit the Willamette Valley and pushed all the way up into Washington, dropping a few inches of snow, which around here is the equivalent of a paralyzing nor'easter where I'm originally from.
Take me outta here!

Unequipped, inexperienced drivers slid every which way and plows were nowhere to be seen. Thus it was that I completed the usually three-hour trip from Portland to Seattle in eight lumbar-torturing hours.
But what true pilgrim would be worth his salt if he didn't suffer a bit en route to the place or object of veneration? And so perhaps you can imagine how that suffering sharpened my ecstasy when I finally entered the Washington Convention Center and even before I saw it, I smelled it….SPRING!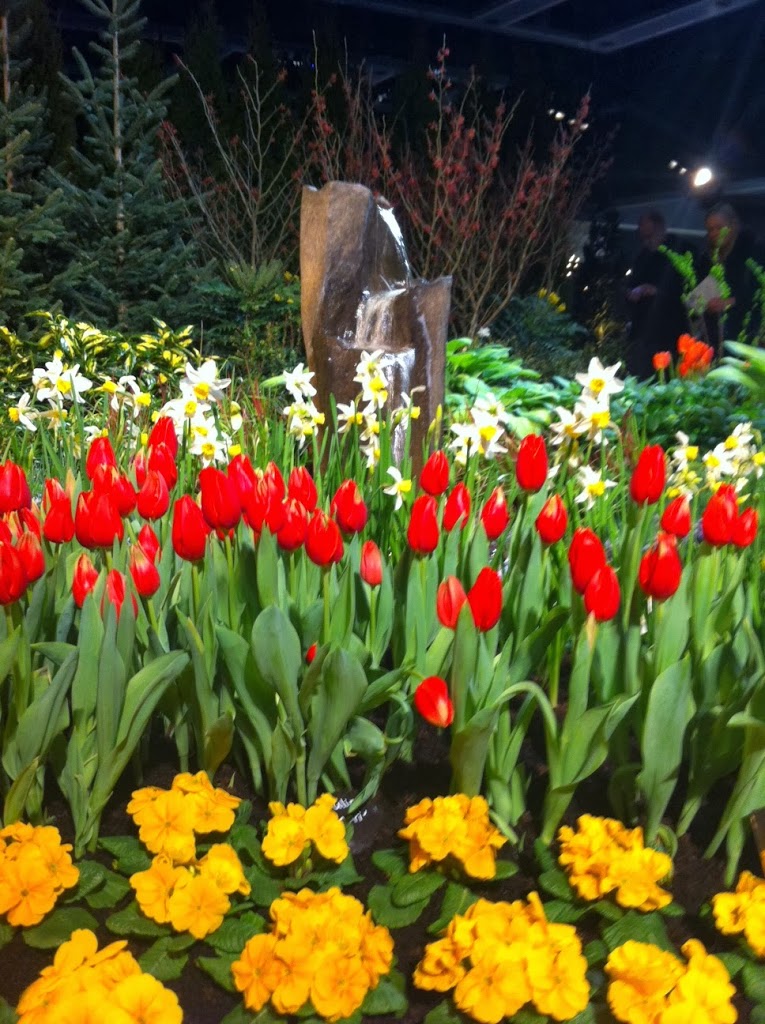 Don't take me outta here…ever!
Masses of hyacinth, narcissus, tulips, daphne, and more drew me into that temple of gardening and landscaping creativity, and I abandoned myself fully to the illusion, safe for a few days from winter's menace. I'm going to highlight aspects of the show that relate to its plants and its people, but I go also for the potential it generates in my mind, which unfolds through the year and over years, so that bears a little talking about as well.
This is a show about plants where designers and nursery professionals from far and wide compete with each other to create displays that will amaze even ardent green-thumbers. Though I have spent years focused on growing vegetables, I have been gaining in my appreciation of horticulture and landscaping in general, and this is where the show really shines (but not to worry, lots there about veggies, too). One of the display gardens, notable in its own right for a display of exquisite ceramic urns, stunned me with its plant composition. There were perhaps 50, 6-8′ tall conifers "planted" (as in still in their pots but covered in mulch so as to look naturally growing) in the display, and no two were alike, and none were familiar to me.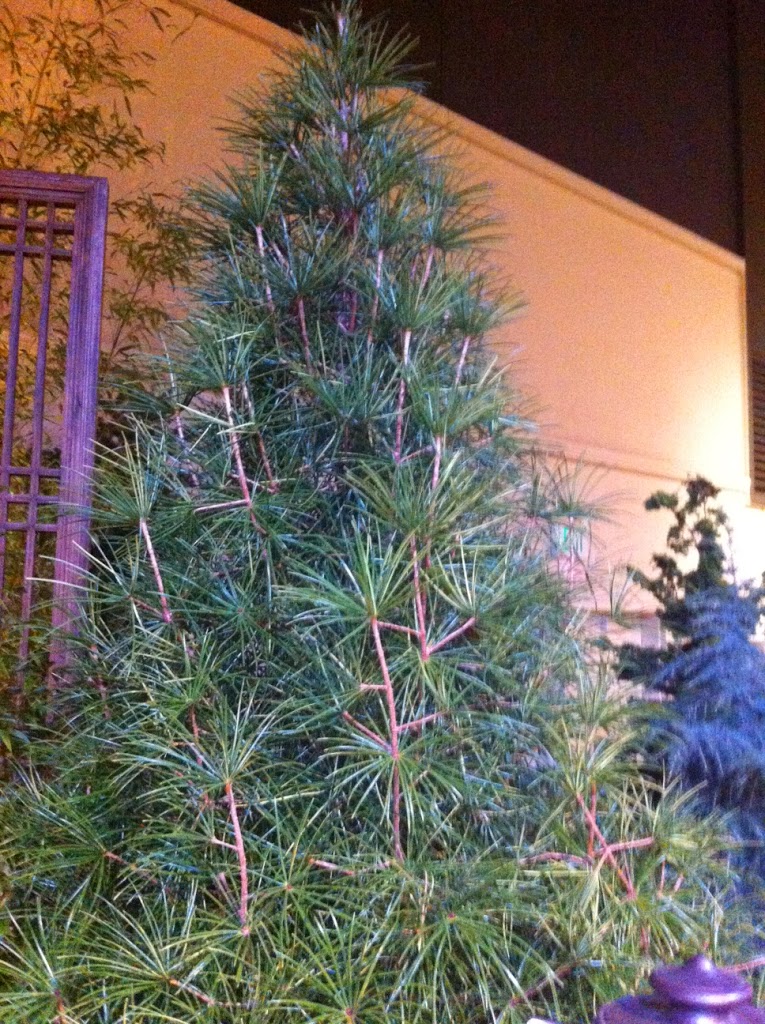 This is the Green Parasol Japanese Umbrella Pine, one of 60 or more varieties I didn't recognize at only one display at the show.
It humbles me to know that I still have so much to learn about plants, but when I feel I'm learning it from plant geniuses, then for some reason I don't feel so bad about my ignorance.
Sometimes familiar plant material took on new wonder when paired with other natural or sculptural forms, as in these Tillandsias (air plants) hanging from urchin shells.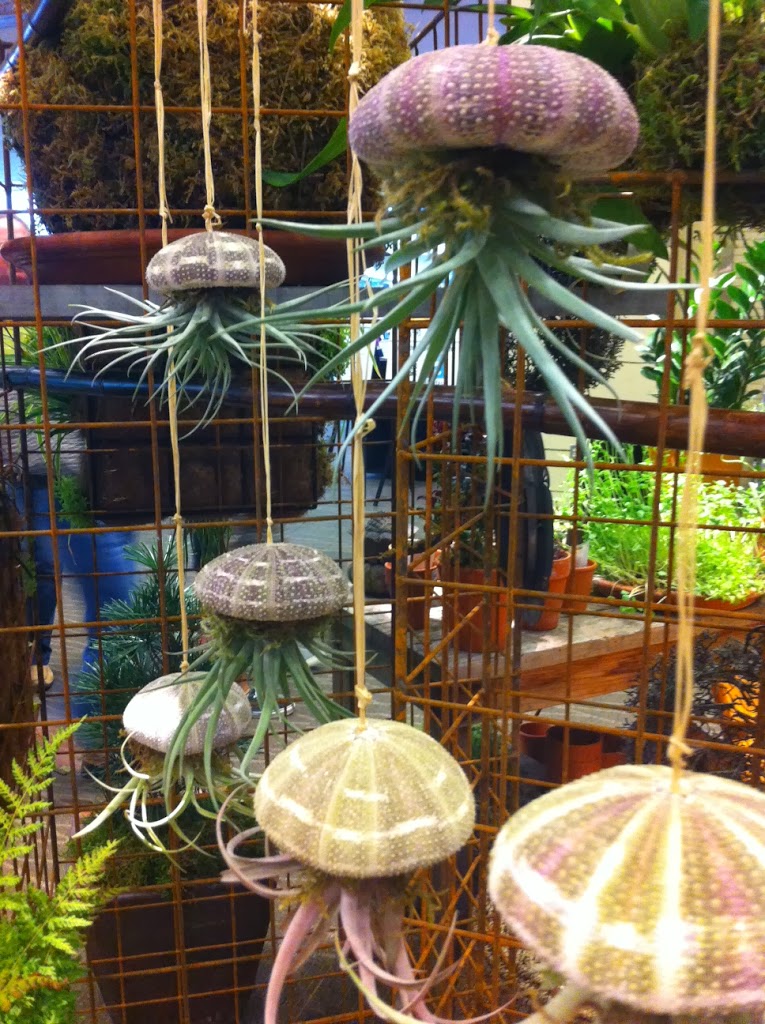 Are you as dumbfounded as I am looking at these? So cool!
I have already alluded to the connection between plants and people. Upon looking at rare, spectacular, or subtly intriguing plants, I quickly made the connection that some person, spectacular or intriguing in at least some respect, selected, tended, gathered, or perhaps even created them. Such was my amazement to be able to attend two wonderful lectures by Dan Hinkley, who some have called the pre-eminent plant explorer of our time.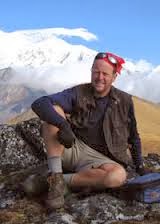 Here is Dan Hinckley, atop some mountain somewhere looking very much the part of explorer. This image graces the pots of certain Monrovia Nursery plants, for which Hinckley is a hired gun to seek and bring new plant material back to the Pacific NW.
He presents himself as a regular guy with a dry wit (not some otherworldly, nasal-voiced plant geek), but I soon realized that I was in the presence of a Jovian plantsman (as in Jove, as in "Zeus, dude!") with Mercury-like boots who circumambulates the globe in search of exciting new perennials that will grow in the Pacific NW. His Friday afternoon talk on "25 plants he wouldn't be without" crammed maybe a thousand or so avid gardeners into a conference room (I was on my knees in a jammed aisle…all seats taken, of course), with all of us hanging on his every word and image. But his world is not all glory and exaltation. His last slide, which included a video clip showing a fast-moving, bright green, quite-long tree leech, the likes of which he had to face daily in his recent rainy slog through the high elevation jungles of Burma, left me happy he has his vocation and I have mine. Still I could not help but be astonished by my good fortune to be present at such a mind-expanding session with such a giant in the horticultural field.
Despite the stunning plant combinations and the heroes and demi-gods who create or discover them, for me the best part of the show is the less easily definable potential that all that exposure generates. I love to wander the huge floor show, bathing myself in ideas and resources.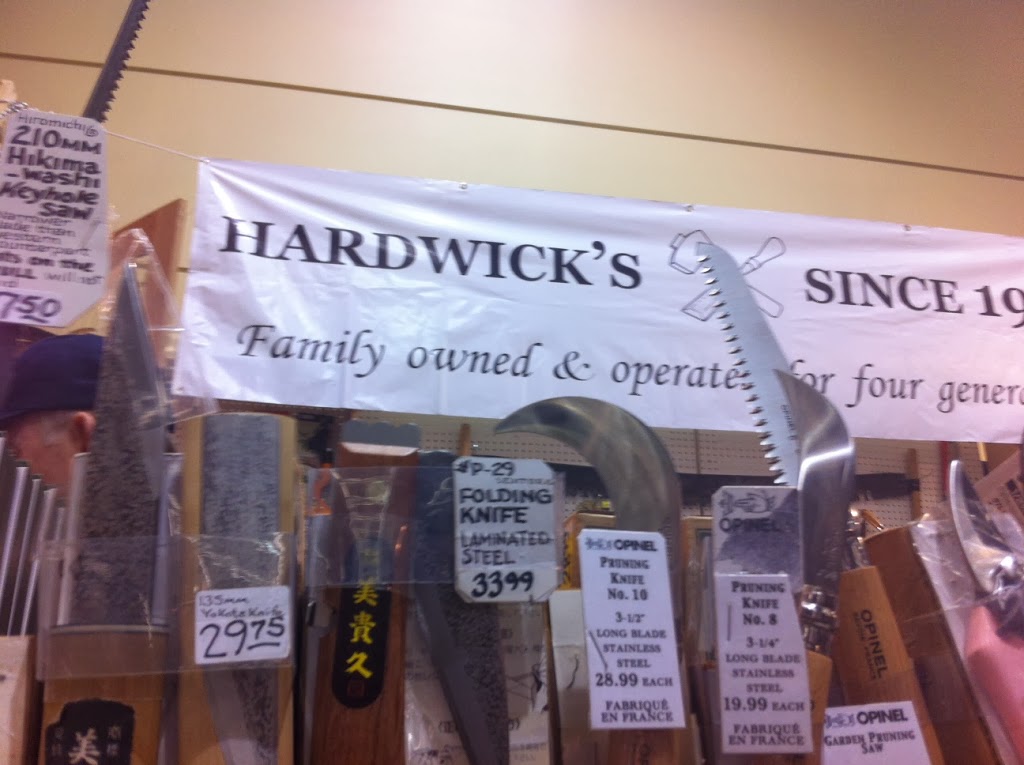 I am going here next time I'm in Seattle: 4214 Roosevelt Way NE, Seattle, WA 98105
(206) 632-1203
Some come ready-made, like learning about Hardwick's, a gardener's everything tool shop in Seattle. Some are unfulfillable longings for garden items which are beyond my means, such as these stunning, hand-blown, glass cloches (yes, each of my individual lettuce plants is worth spending $125 to protect…and that's show price….$250 regular!!!)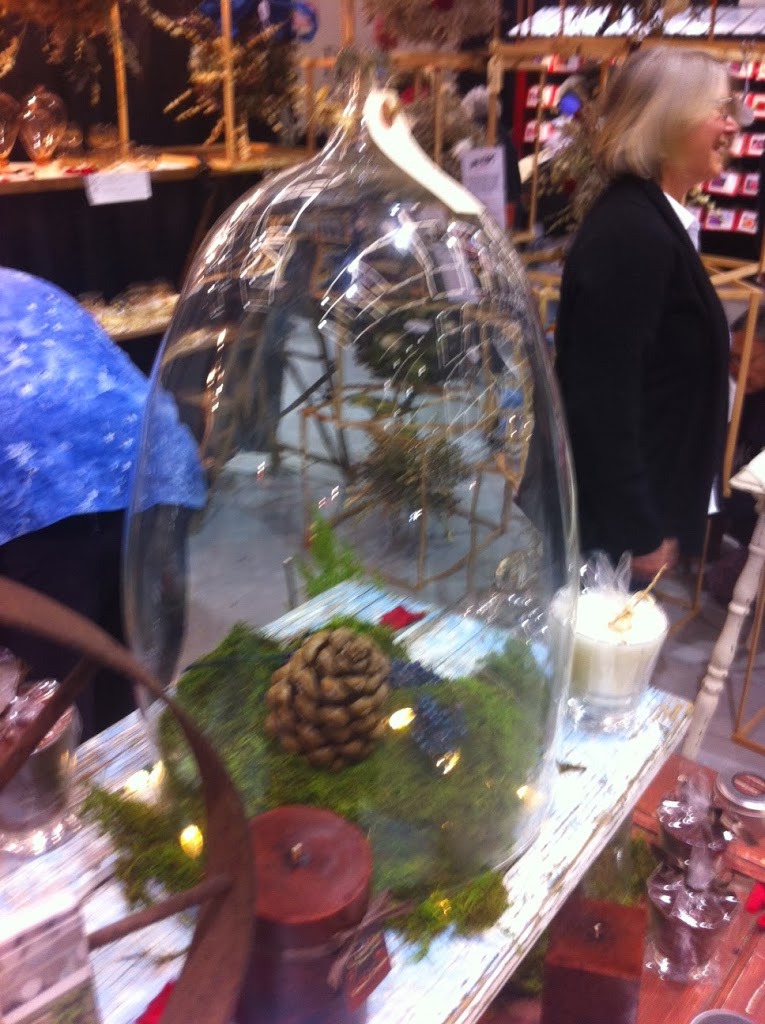 When garden items become objets d'art I clearly cannot afford them, but still long to have them.
Yet the very seeing of them, the very recognition of their beauty may create a seed of creativity which will germinate later in my mind, hopefully into something more reasonably priced. Then there are the pure steals, where someone else has worked hard to create a new concept, and then has to put it on open display in order to sell the concept. If it's not patented, it's open for the taking, and even if it is patented, that doesn't mean I can't make something similar and use it for my own benefit.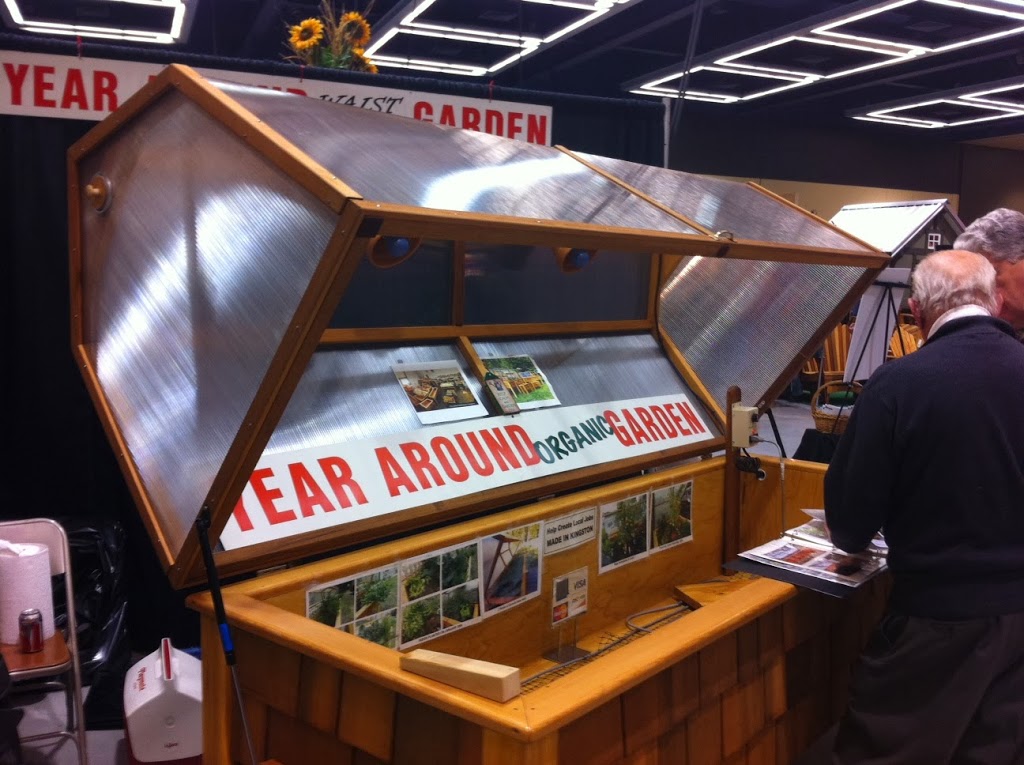 This Cadillac of raised beds had many ideas ripe for the borrowing, such as hydraulics on the sides to hold the lid up and grow lights on the inside for gray, NW days. Thanks for thinking this all through for me, gentlemen!
But in the end, someone's good idea may be hard to reproduce, or it may just take too much of my precious time, and so beyond plants, people and potential, there is porosity….of the wallet, that is. Despite my best intentions, money flows out of my wallet at this show because there's always something which stuns me out of my restraint, some gift idea I can justify spending money on, or some just plain, good, old-fashioned impulse purchasing.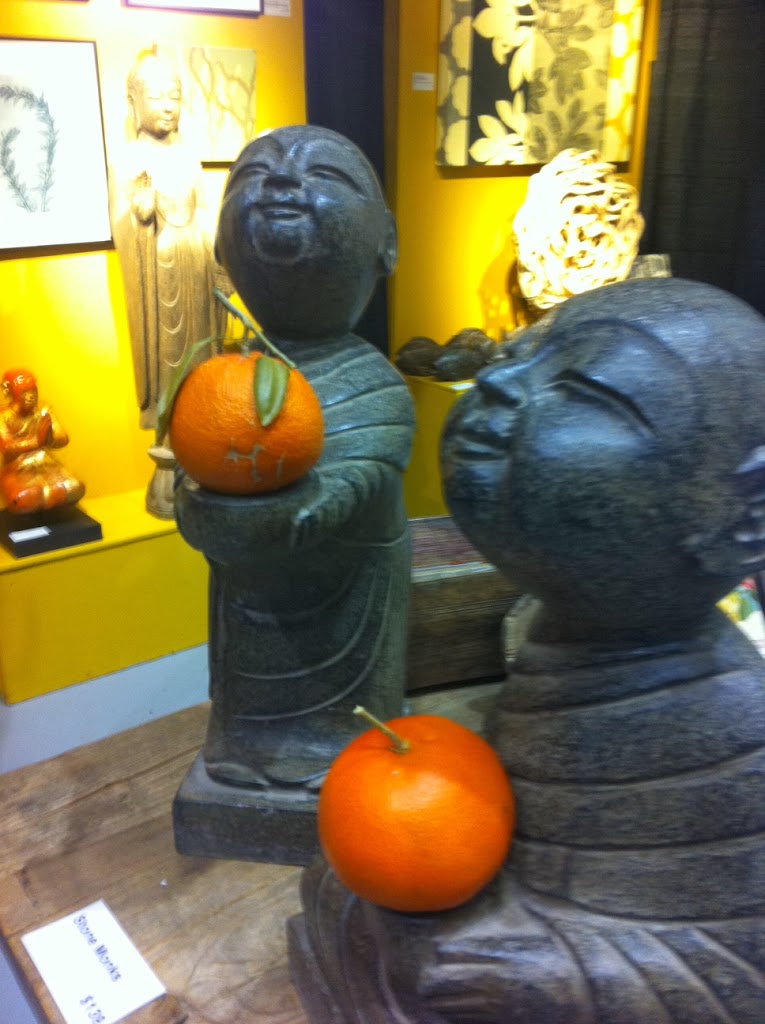 These two show-goers appear to be very happy with their purchases. Necessity or impulse buy? Who knows?

Hey, it's not like I'm buying crack cocaine or anything. This is beauty, this is spring, this is gardening creativity at its best. All I'm doing is bringing a little home with me!