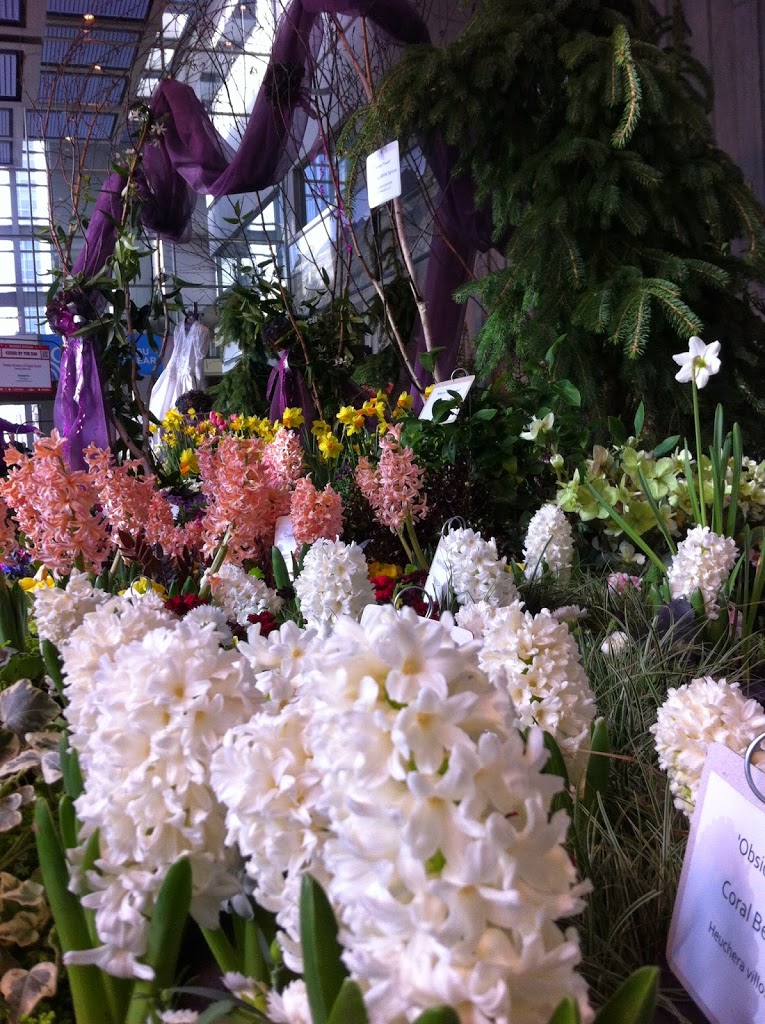 If I could add a hyacinth scent button here so you would be utter overwhelmed with the smell of these multi-hued flowers, then you would be getting some sense of how the NW Flower and Garden Show creates a multi-sensory world where you can live and forget the rest of the world for a few days.
We all know that when we are in the presence of certain people we behave or even feel differently. Certain companions are beloved because they evoke our best selves and give us reason to celebrate life. So it is also with gatherings. A family reunion, a rock concert, a worship service, or a rally all may be sought after, looked forward to because of the ways they allow us to be, that being magnified by the presence of so many others of the same mind. That is precisely the intense pleasure I take in attending the NW Flower and Garden Show in Seattle each winter.

Ciscoe Morris's considerable zeal for plants makes him a rock star at the Seattle show. Also doesn't hurt that he has innumerable folksy expressions and wild gesticulations to add to his botanical Latin.

It's not that I know many of the people there personally. I don't. Oh, I see a few acquaintances here and there, and some of the long-time vendors are becoming familiar faces, and, of course some of the speakers, like Seattle's master comic/plantsman Ciscoe Morris, are indispensable spiritual tonics, but all that aside, there is an incredible communal buoyancy around the beauty that is gathered, displayed, and reveled in at the Show.
Thich Nhat Hanh, you are better than me because you always have a smile, and I manage a continuous grin only at the NW Flower and Garden Show.
I have come across the writings of Buddhist monk Thich Nhat Hanh at various times, and I have sometimes found his insistence on a spiritual practice of smiling as annoyingly artificial. I actually once felt cross when I read something of his about how I should go about with a low-grade smile at all times, but often at the Show I find myself doing just that: walking around, bathing in the alluring sights and delicious smells, and just blindly, involuntarily smiling. Alright, Thich, maybe someday I will smile involuntarily at all of life, and for now I will withhold critique of your practice. I now know from the Show that a smiling stance toward life is possible to maintain for at least a few days straight.
OK, you don't really care about how I feel about life and garden shows. You're here because you want the goods on gardening. Well guess what….you're going to have to wait. I'm going to dribble out the info slowly through a couple of posts this week. What I am going to show you below hopefully will amaze you and distract from the fact that no tangible veggie-growing information was given at this time.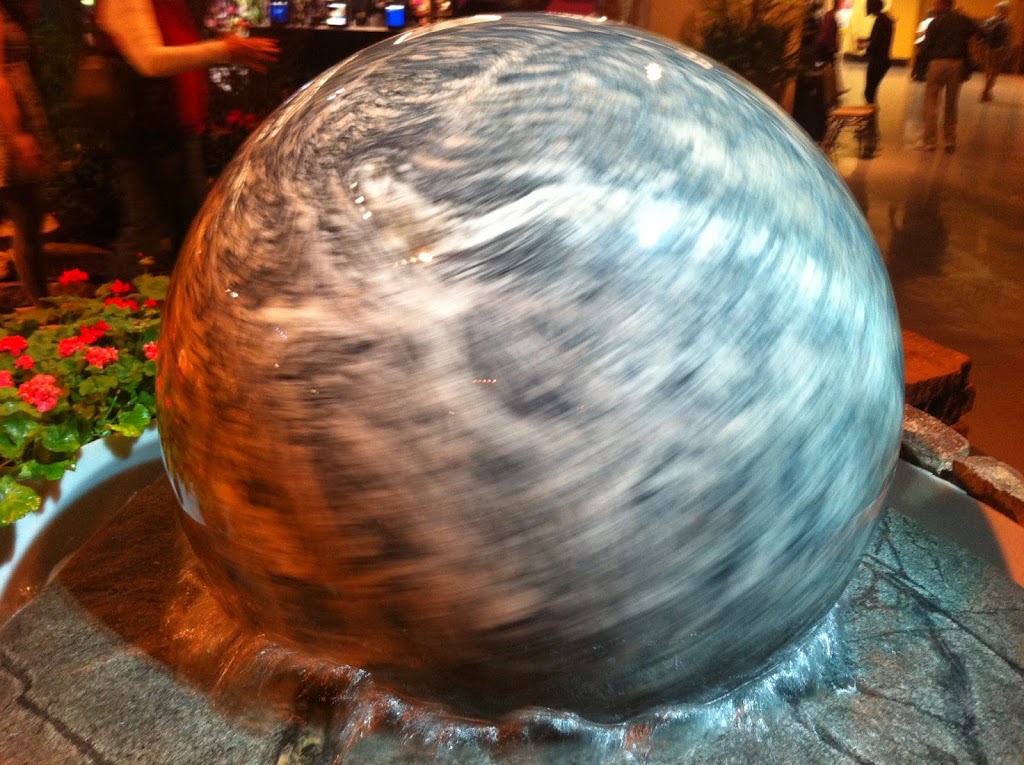 This sculpture sells for about $100,000….let's say $150,000 after installation. Won't ever grace my garden, but still I am glad to have seen in someone else's.
Feast your eyes on the first thing my eye fixed upon when entering the principal doors of the main exhibition hall. It is a perfectly polished 5000 pound sphere of granite, resting in a concave granite basin just a bit larger than the ball. A hot tub jet installed in the basin bottom creates a water flow that, amazingly, lifts the ball and causes it to spin. As it rolled around and around I saw an image of the Earth spinning in space (or Jupiter or some planet), and it was absolutely mesmerizing. And not just to me. Pretty much everybody who passed by stopped in their tracks, and jaws dropped as if on command. Had I come to the show to learn more about growing vegetables? But the sphere was so utterly fascinating….why bother with vegetables….I'm just going to stay here and look at the sphere…..
There is a Garden of Eden quality to the Show, and that's probably why I keep going back year after year. I get reminded again and again that our spinning planet (….must go back and see sphere….) is full of stunning wonders. At the show I get to hear from some of the global plant explorers who revel in the still staggering diversity of plant forms; I get to witness the creative genius of designers who bring color and form and texture into movie-set-like displays; I get to converse at length with entrepreneurs and editors who are passionate about advancing vegetable or ornamental gardening with some innovative product, book, or tip. Best of all, I get to just stand there, take heavy hits of the hyacinth-laden air and just smile.