I don't care whether you are a professional grower or a hobbyist, there are some gardening milestones that when hit make you feel like a million bucks. You just know you NAILED the thing, and that entitles you to a certain gardener's swagger. For me, getting some good tasting lettuce during April is one of those ego boosts that, let's admit, we all need once in a while. What with pests, weather, and just the crazy random events of the garden, there's plenty to bring a fella' down, so when I get a leg up on nature and bring in a crop before its time, I like to strut it a little.
Plus in the scenario I'm about to narrate, it's crucial that I deliver the goods on a timeline, so all the more reason to strut if I do. I'm talking about my job as gardener at Franciscan Montessori Earth School. If I want to put food on the kids' plates, it's got to be done before mid-June, so anything harvestable in March, April, or May is pure gold! Here's how I've been harvesting lettuce since late March at Franciscan Montessori Earth School.
A couple years ago at school we received these interesting containers, about 4'x4'x4′. To the best of my knowledge, they are called Monster Combo Bins, made by Bonair Plastics (http://www.bonarplastics.com/Products/BinsBoxesandTotes/MonsterComboBins.aspx)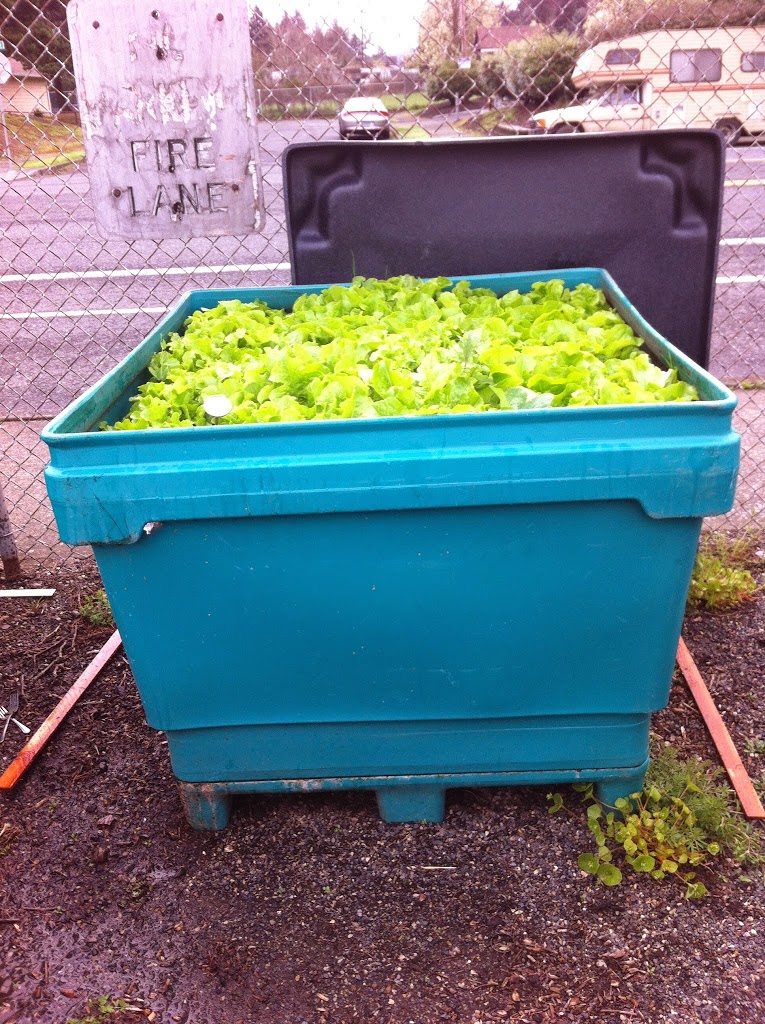 The all-in-one composter/planter
After morphing through various incarnations, including children's play equipment and water storage tanks, they have reached their perfection, I think, as compost planters. Recall from an earlier post (Jan 18, 2013 "What is this thing?") that I believe every compost pile should be planted soon after it is finished. Over two or so months, I layered lunch wastes with wood chips in these boxes, keeping them covered during the ongoing loading to keep out vermin. Happily they came with their own nice, tight-fitting lids, visible behind the box. Then, once I topped out the box with compostables and let it cook just a bit to decrease the volume, I applied some finished compost to the top and planted it densely with lettuce.
Immediately I took advantage of the box's sides to insert some reinforcing wire mesh (see "My love affair with concrete reinforcing wire" from May 28, 2011) which supported a small piece of greenhouse plastic (treated to resist UV…regular, clear visqueen just goes to crap in one season and makes quite a mess, I might add). This set-up created a small, open ended cloche or "low tunnel", which added some additional protection from the wind and weather and which didn't need any fussing with – as in venting the lid – on sunny days.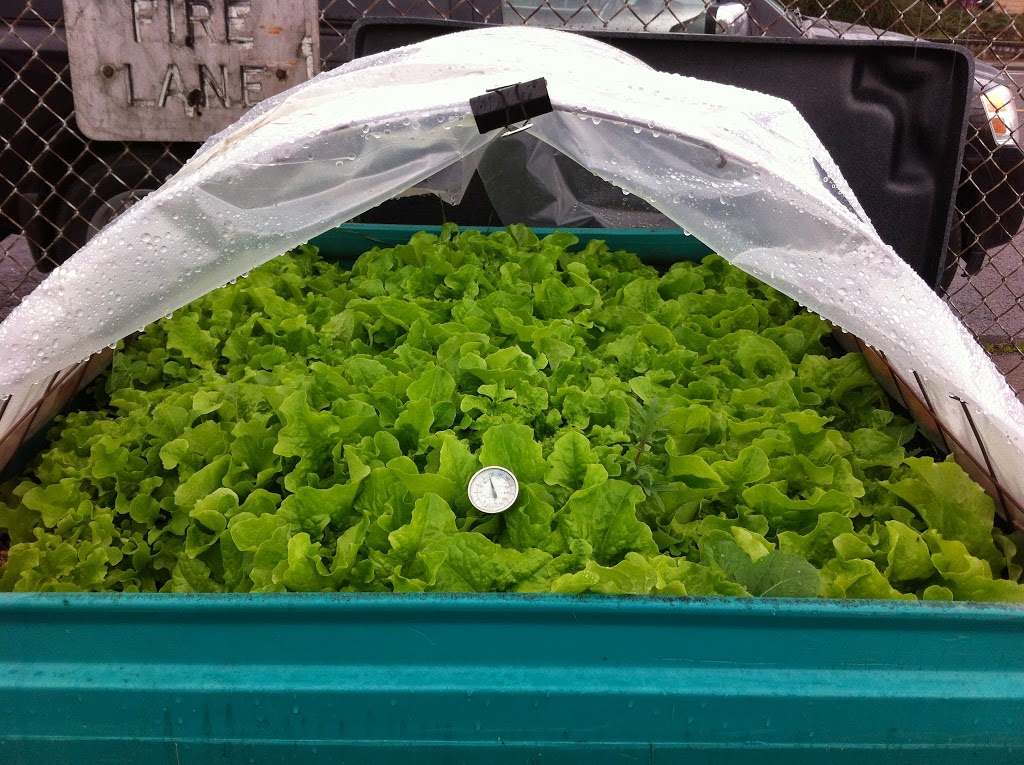 Open-ended low tunnel made with none other than concrete reinforcing wire.
The real plus of the system came from the ongoing heat being generated by the composting material in the box. At 18″ deep, the temperature is running a constant 100 F, which has given me steady, uninterrupted lettuce growth, allowing transplants I planted in mid-February to reach harvestable size by late March. Because I had planted them so densely, the first harvest was a thinning of approximately every other one, so those first lettuce were a little on the small side, but that made room for the remaining ones to size up to full heads.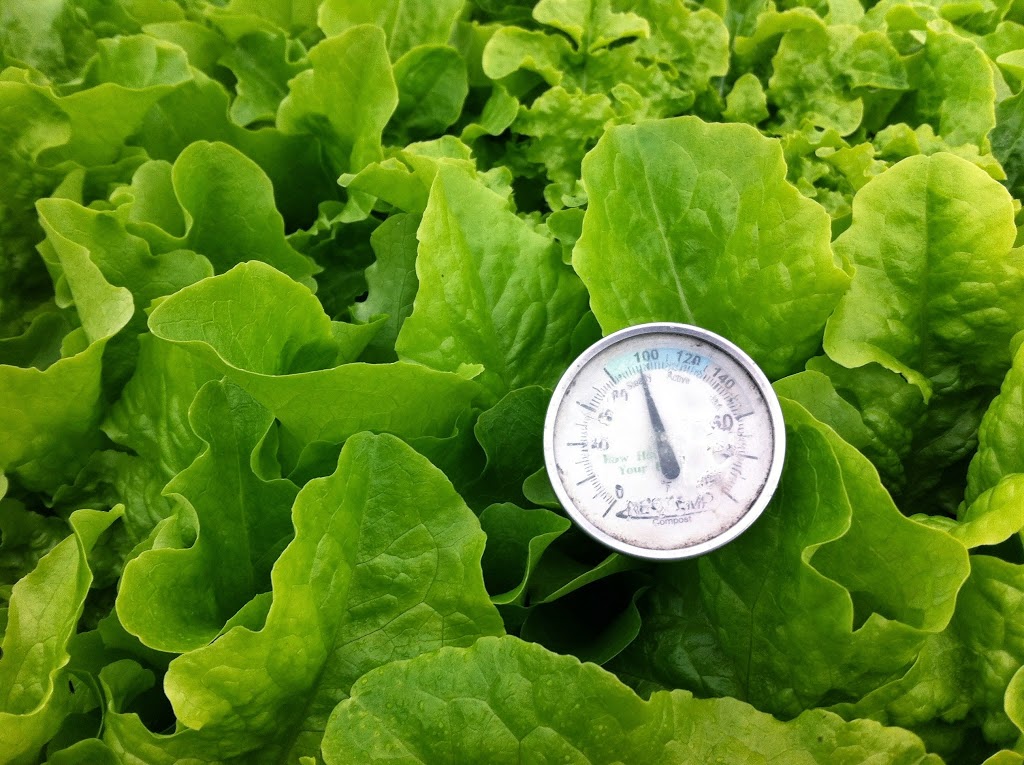 It's 100 F 18″ below these lettuce, even when ambient temps are in the 40s.
A paper I read from the New Alchemy Institute (I believe the institute's now defunct, sadly, but here's the paper: http://www.builditsolar.com/Projects/Sunspace/NewAlchemycompost.pdf) suggests that compost generates water vapor, carbon dioxide, and nitrates, all potentially useable to grow plants. While I'm not managing my compost as intensively as they did to get maximum growth benefits, I have to think that at least some of that growing power is working to give me my early, succulent, and amazing-tasting lettuce.
Next steps for the boxes are to host squash or cukes as soon as the lettuces are done. Then after those cucurbits have run their course over the summer I will finally empty the boxes out into the nearby fields, readying the containers to begin the school lunch compost season anew in September.
Every time I walk by those boxes and I see that early lettuce, I get a bounce in my step. What spring gardening success has you swaggering around a bit?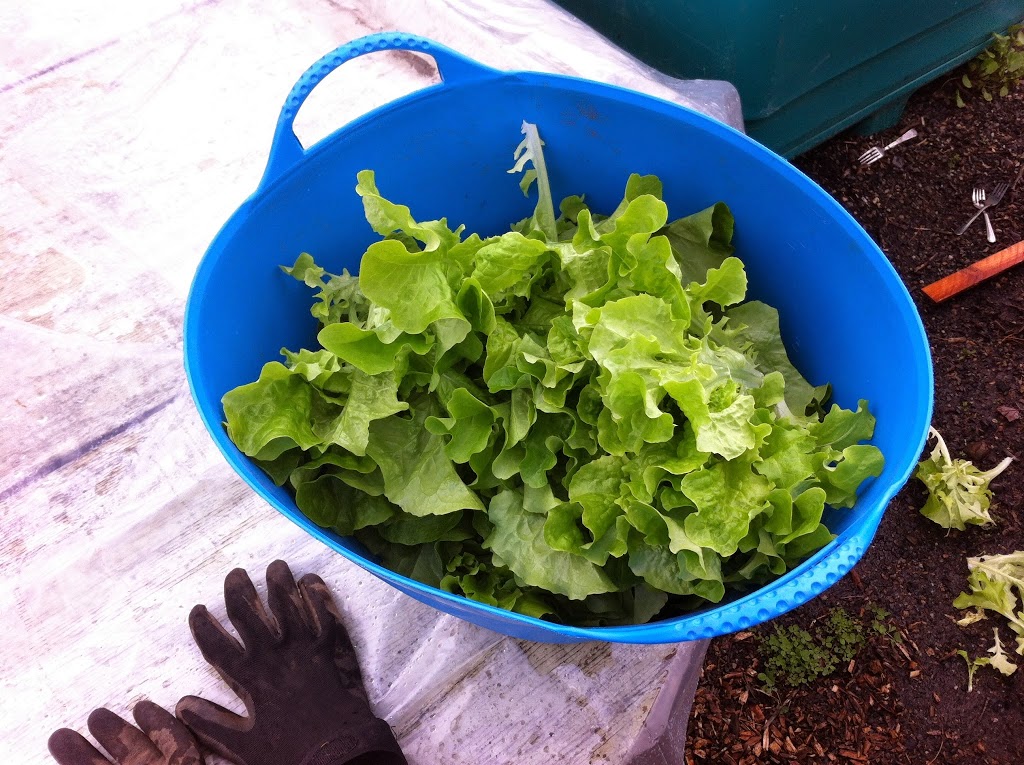 Lettuce destined to build strong minds and bodies among the school children. I love my job!