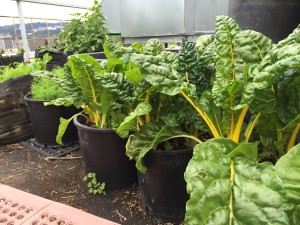 It doesn't take much to make a meaningful contribution to a restaurant menu or a home kitchen.  Here golden-stemmed chard grows happily in 4 gal. nursery pots.
Recently I got these five questions from a restaurateur exploring whether she should start a garden for her restaurant. Perhaps the information will be useful to other readers of the blog, so I am posting both her questions and my brief replies.
1. How much space do you need to create an herb garden that supplies a restaurant?
Space required can be very minimal.  My strategy is that the less space you have the more you focus on things that are hard to get or that you need just for particular dishes.  Example: if you had only space for three pots (a very minimalist example!) you should not try to grow all your restaurant's standard Italian basil, but you might grow a small-leaved globe basil, which would be intended for one or two special dishes.  Obviously the more space you have the better, and of course there is a trade off between space and  maintenance.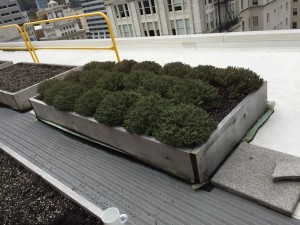 This bed of French thyme satisfies the needs of a large restaurant for one particular dish.  It's a great example of a targeted use of an on-site garden.
2.  What are the top 5 best herbs to grow in Portland?
Top five….tough question.  What are the top five that your chefs need?….what are the top five that they need but can't easily get?….what are the top five that they run out of at 9 pm at night when your produce delivery won't come?…what are the top five that are wasted in the walk-in?…..these are all better top five questions.  There are scores of herbs that will grow well here, so it's really a matter of honing down the question to your particular needs.
3.  How much time per week is necessary for upkeep? We are interested in possibly having an offsite person come in to tend to the space.
Maintenance time is proportional to space under cultivation and sometimes to the needs of the particular crop.  With herbs that you plant once and harvest all season long, like basil, time is pretty much reduced to watering and cutting, so it can be pretty minimal.
4.   How much do you think it would cost to create a small herb garden (planter boxes, soil, plants)?
Your biggest expense will be the kind of container you want.  The more you are looking for a particular style, the more you will spend.  That said you can frame up a 2×6 cedar box for very little money and have a productive garden bed for as little as $30 or so and a couple hours of your time to make it (plus basic tools).
5. What do you like best about having a garden on site?
When you have a garden on site it becomes part of the story of the restaurant.  Everyone enjoys it at a different level.  Patrons like the local angle; chefs value the freshness and the ability to create a unique culinary plant profile; even nature responds – hummingbirds and other creatures visit.  In Christianity and Islam a garden is the symbol for paradise and for good reason – everybody loves a garden!