In so many ways fall in the garden and in life is a time of winding down, a closing of the accounts of summer, a perhaps welcome rest from the labor of the high season coupled with a wistfulness that long, warm days are a thing of the past. To some it is a time of balancing energies between light and dark, and of looking inward.
It's nice to reflect on all of that, but it's also nice to know that some plants, unmoved by these Hallmark-greeting-card sentiments, go out in a blaze of glory with nary a thought for winter's coming. Pineapple sage (Salvia elegans) is one such plant, which, after delivering substantial goods all through the summer in the form of its wonderful, tropically-scented leaves, kicks it into overdrive with the first sign of cooling nights by putting out an explosion of tiny, vermillion, trumpet-like flowers.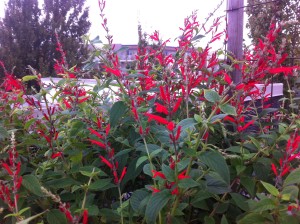 And it's that way until the first frost, when it blackens and dies…full-speed right up until the end. The hummingbirds apparently appreciate this kind of devil-may-care attitude toward life shown by the sage and are rewarding its shameless bravado with pollination services. What's tragic is that our climate does not allow it to complete its life cycle by forming seeds, which I'm sure it can do in warmer areas. But not to worry, pineapple sage; you are a tender perennial, capable of regeneration from your roots, and with Portland's warming winter temperatures, you do so more often than not.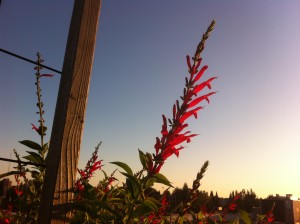 So with fall's coming, flare forth without provision for the coming cold, and take Dylan Thomas's motto as your own: "Do not go gentle into that good night…Rage, rage against the dying of the light."