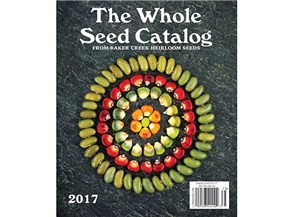 So it's January, and that means we move from the pleasant paging-through of all the arriving seed catalogs to the sharpened-pencil, filling-out-the-form, decision-making that is required to actually order the seeds and move from pure potential (our December state of mind with catalogs in hand) to actualizing those dreams.
I'm not going to jump up on any soapbox (not that I could find one easily) and lecture you about what kind of seeds to get, for I am as much a purchaser of the hybrids as I am the heirlooms, but this winter my hat's really off to the all-heirloom folks at Baker Creek Heirloom Seeds, and I am absolutely delighting in this season's new offerings.  Because I knew that pure prose alone might not do justice to some of the fabulous veggies  they've got for sale, I asked and they granted permission to use photos from their online catalog.  I just completed my Baker Creek order today (at least the rooftop garden part…probably will be a second order), so allow me to share with you some of my more salivatory anticipations.  All photos are courtesy of Baker Creek Heirloom Seeds, and you can see it all for yourself at www.rareseeds.com.
First up, I've decided that I'm going to sweep the entire Alpine Strawberry section and plant everything they offer.  If you haven't had an alpine strawberry (also sometimes called fraises de bois , though last time I checked there wasn't much bois in the alpine zone), you're in for a redefinition of strawberriness.  Basically you must compress a regular strawberry to the size of your pinky fingernail and then endow it with heavenly fragrance and sweetness.  I'm really a fan of the white and yellow ones which, though they lack vivid color, do not lack vivid flavor.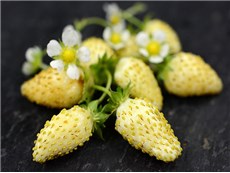 This strawberry has soul….White Soul, to be exact!
Next come the edible gourds. How about a 7′ long gourd which remains tender until 4′ and which is described as "super tasty"?  Count me in!  Move over Subway 6′ sub….this gourd may be your match!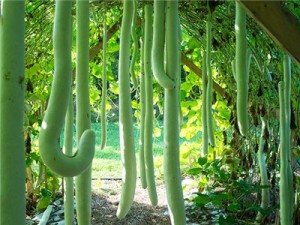 This Kikinda edible gourd is kikinda amazing!
Moving on to the summer squash, there's one that I ordered that will make your ordinary green stick zucchini seem like utter Dullsville. Even the name of it commands a certain linguistic gymnasticism: Gelber Englisher Custard.  The physical appearance couldn't be stranger: as if an orange mushroom exploded out of the top of a small pumpkin, or as if that same small pumpkin was shot in the top and the blast wave of orange stuff was frozen one millisecond after impact.   As hard as all that may be to believe, harder still are the three exclamation points that the squash earns for taste, as in: "Staff Favorite!" and "Young fruit have incredible flavor!" and "Much better than most zucchini!"  Either Baker Creek has some real enthusiastic copy writers or this is one helluva summer squash, and I'm about to find out.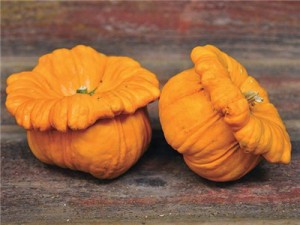 Coin purse of orange leather? New species of jellyfish?  No!  Summer squash!
Sadly for want of growing space, I had to bypass the puke-green-warted Musquee de Maroc winter squash, though I think it would be character building to grow and plan to eat a vegetable the very appearance of which nauseated, and sadly we won't be growing  the Armenian Metki Dark Green Serpent Melon, which can apparently get bigger than a young child.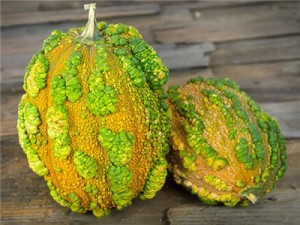 Imagine embracing this apparently vomit-colored,  pustule-covered squash as completely normal.

And look at this poor child struggle with this melon, which looks more like a green Gila Monster or a small alligator.
I pretty much acid-tripped my way through some of the tomato pages, especially all the tie-dyed patterns that are coming from genius breeder Brad Gates of Wild Boar Farms.  Having been the victim of  over-tomato-izing in the past (that is, growing or buying more tomatoes than one's garden can accommodate), I took a disciplined approach and ordered only one –  Solar Flare, which Gates himself describes as one of his "work horses".  Of course I will break down and buy more later.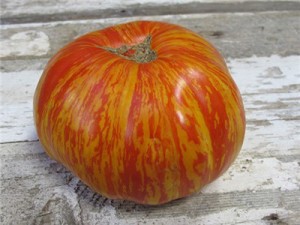 Solar Flare is actually tame compared with some of Brad Gates's other tomato offerings.
I stamped my feet and had a tantrum when I had to resist a whole page of South American Solanum Fruit (potato-tomato-pepper family), all of which need more heat that we can offer up here in Portland.  Imagine the pain that I felt when I had to acknowledge that unless I some day move south, I will never know the joys of growing (and frequently saying) Solanum sisymbriifolium.
But I quickly got over that when I saw and ordered the "world's first truly heatless habanero", the cleverly-named Habanada.  I love the intense fruitiness of habaneros, but cannot tolerate the punishment they mete out to the tongue.  Finally I will be able to really pour on the Habanada sauce on my fried eggs and have nothing but a smile afterward.  I also shivered, and then quickly turned the page, after seeing the dreaded Carolina Reaper, 10 to 15 times hotter than the already dread habanero.  There are many videos out there of people eating the Reaper, and the results are not pretty.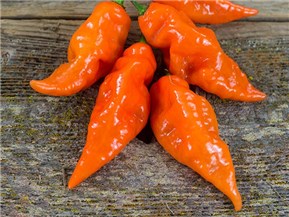 The astonishing Habanada, which I would more rightly call the Haba-algo.
Finally I was in worshipful awe of the pea-breeding work that Dr. Alan Kapuler has been up to.  I hadn't heard much about him lately, so I was very pleased to see some of his exciting bad-hair-day tendril and blushed-podded peas offered.  I snapped up Spring Blush Tendril Pea, Sugar Magnolia Tendril Pea, and Magnolia Blossom Tendril Pea.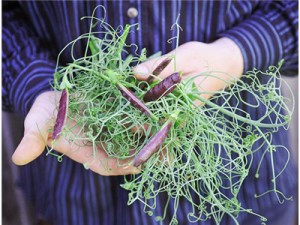 With Sugar Magnolia Tendril Pea a bad-hair day is a good day!
Well, I hope this little selection from Baker Creek inspires you to dive in and check out their selection for yourself so you, too, can grow your own stunning, unique, delectable, and, perhaps, disgusting-looking vegetables this summer.  My gratitude again to the folks at Baker Creek for use of these amazing images and, of course, for their work in preserving this amazing food heritage for us all.
Happy Growing!