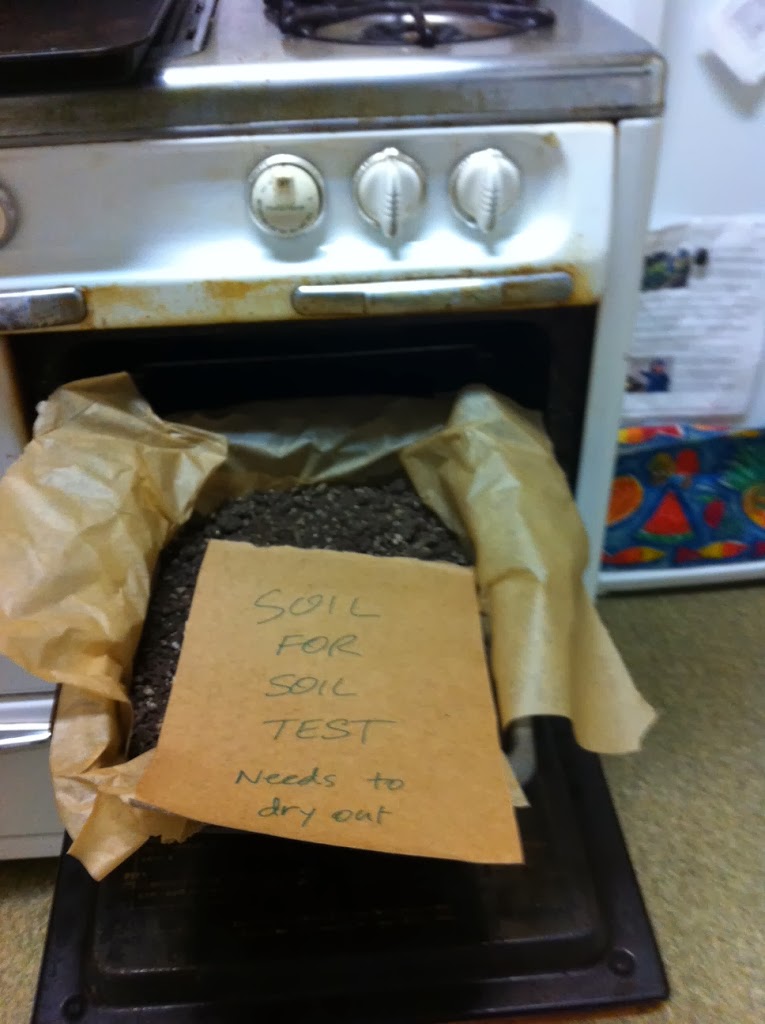 Our gas stove does double-duty as a soil sample dryer. The courtesy note hopefully prevents anyone's actually digging in to the dish thinking is was some kind of Oreo-crumble dessert!
Well, it's seeding time, which means that it's almost planting-out time, which means that it's a good time to take a look at one's soil (assuming there's no snow on the ground or that the ground isn't frozen solid…in which case, wait a while) and see what's there or not there. Though I have usually taken an intuitive approach to fertilizing, relying on a self-mixed, broad-spectrum fertilizer, this year I have been reading Steve Solomon's book The Intelligent Gardener: Growing Nutrient Dense Food, and I'm all hot-to-trot on getting every soil that I garden tested. I have tested soil in the past, but with do-it-yourself kits, and the word in the ag literature is that those things can be wildly inaccurate, so this year I'm stepping up the game and going with a professional lab.
The rooftop garden poses some particular difficulties regarding soil testing because the soil is mostly potting soil and it resides in a series of discrete containers, all of which have received slightly different treatment over the years. Still, after six years of working and fertilizing it organically, there must be some mineral build-up, not to mention slow-release nitrogen, and I'd like to know what we've got. Over the years plant growth has been good, but the question arises: "Could it have been better?" Hence the tests. As far as the containerized situation, I have resolved to treat it all as a grand average, so I mixed samples from a number of beds and dried the batch in my oven (love that gas pilot!). Having labeled everything carefully according to directions, I am sending the sample with a few others from other locations to Solomon's recommended lab, Logan Labs LLC in Ohio (http://www.loganlabs.com/ Directions for preparing a sample are on their web site). I know my local Oregon Ag. Extension Office does soil tests, and they probably use the same methods that Logan does, but Solomon's book gives worksheets based on Logan's reports, and since I'm sold on his conclusions, I'm going to follow his recommendations. Wherever you go, basic tests run $20-$25, which is a pittance compared with potential results.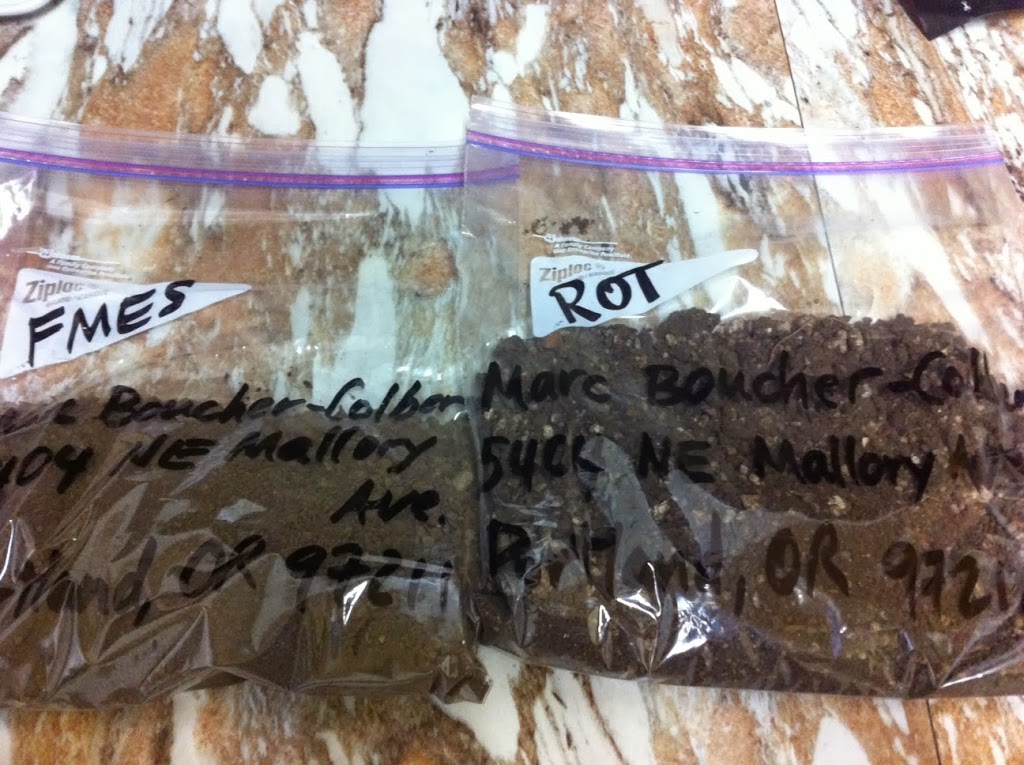 These samples are dried, Zip-locked, and clearly labeled. They are ready for the lab, and by the looks of it, my hopelessly dated kitchen countertop is ready for a remodel. Let's just say that of the two, the soil test getting done seems far more likely.
Solomon's Growing Vegetables West of the Cascades was one of the first gardening books I read when I landed in Oregon and began farming, and even though he moved to New Zealand, he's had to keep re-issuing the book because of its great popularity. He's a writer who doesn't shy away from science, but he also tries to speak to the commoner in as direct language as he can muster. And the guy's a total garden nut, as the following quote might illustrate:
"For me, personally, the study of soil chemistry and the contemplation of what might constitute the ideal soil and how one can create it is a marvelous puzzle that can endlessly occupy my thoughts. It's possible you don't feel the same way about it." (IG, 93)
I can't think of a better mentor than a true nut who doesn't try to force it on you, but gently and persuasively tugs at your reason. Solomon's always been on for me, so I'm going to heed what he says about soil, and I'll get back to you about the results.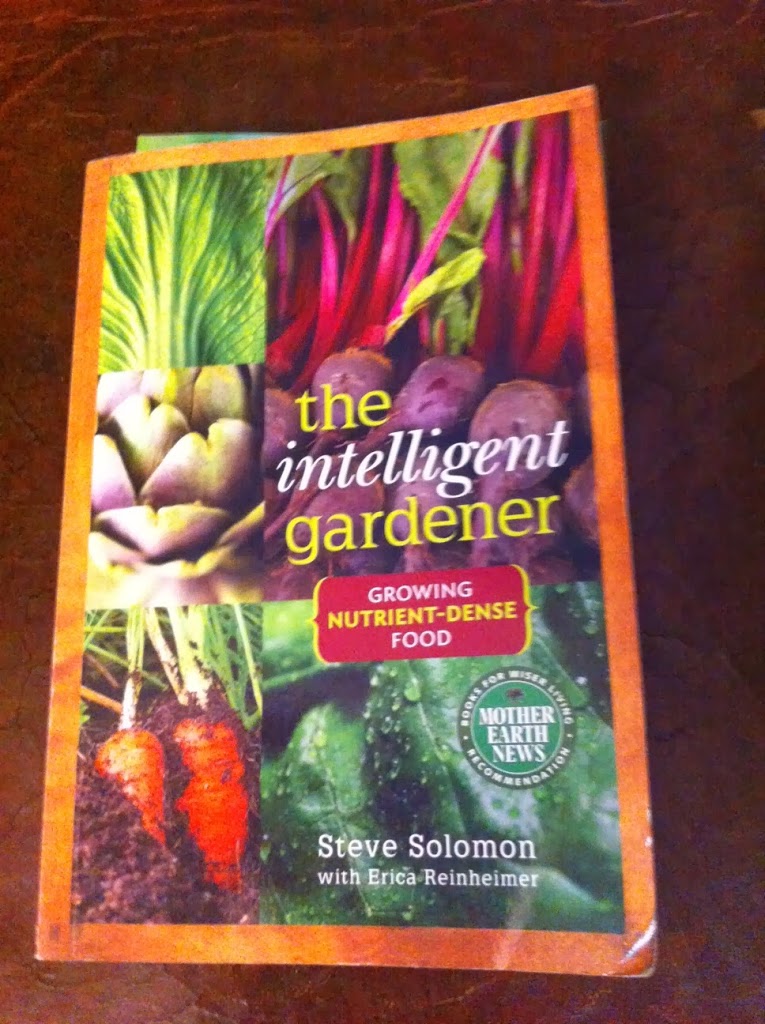 You will become more intelligent reading this book. Pay attention to what he says about the myths behind organics.. that label doesn't necessarily mean nutritious. Read and find out why!